There is no doubt that the creation of electric pressure cooker has been helped the housewives to save a lot of time and energy in the cooking process. With the top rated pressure cookers below, they will get the most delicious dishes for the whole member in the family to enjoy after the tiring days. You can note some following sample to give the best choice.
Sunhouse PA300 Pressure Cooker
If you want a cheap pressure cooker, which has simple design, along with beautiful, convenient, safe when cooking, please choose the sample of Sunhouse PA300 pressure cooker. This pressure cooker is made of durable aluminum alloy materials, which are shiny, easy to clean after use.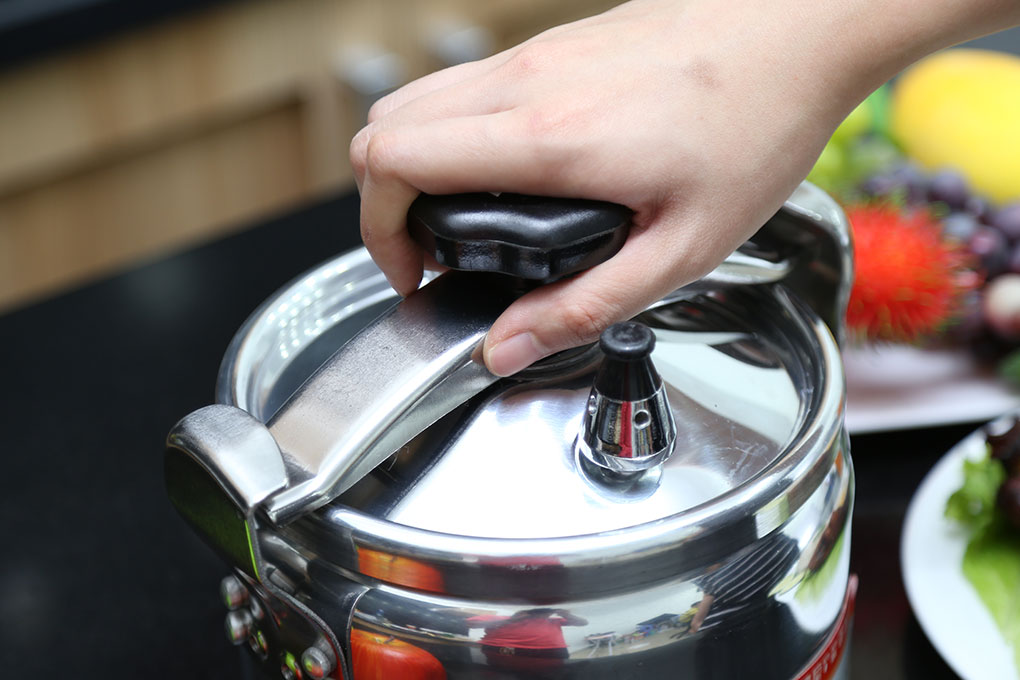 The lid has a thick rubber ring seal, keeping the pressure inside the pot well, helping to cook food quickly and save energy. Besides, the pot has 2 valves and 1 assist balancing valve inside the pressure cooker, with the simple way of pressure relief, easy to use product without being afraid of fire in the cooking process.
Sunhouse PA300 pressure cooker form not only fevers with the consumer in 2016, but in the first days of 2016 is also still purchased by a lot of shopping customers for their families.
Goldsun PC-GJY50W Pressure Cooker
Goldsun PC-GJY50W pressure cooker has 5-liter capacity, allowing you to process large amounts of food while cooking conveniently to save time. In particular, the bottom of this pressure cooker is covered with 430 stainless steel, which can be used not only on gas stoves, but also on kitchen stoves infrared.
This Pressure cooker has 3 layers of protection safety system including the main valves, secondary valves and pressure relief window. With the long handle design, premium coated thermal insulation will not cause the afraid feeling of burns when handling, or moving.
Thanks to its special functionality, the consumers can purchase the Goldsun PC-GJY50W pressure cooker to suit the conditions and needs of your family, go to supermarket shopping or store specializing in selling this item.
Sunhouse LC600Pressure Cooker
If you are interested in favorite pressure cooker of famous brands Sunhouse, spend much sympathy for imported products, want affordable price, the best option for you is Sunhouse LC600 pressure cooker.
These pressure cookers are made of aluminum alloy corrosion resistant hard oxidation, corrosion effect, bright, easy to clean. Designed with 2 side solid handles, well insulated plastic wrap, this pressure cooker helps you move quickly, not afraid of hot or  scalding.
Luxurious design, usability design, good quality, imported from Korea, with affordable prices, Sunhouse LC600 pressure cooker is pleasing to even the most demanding customers, it certainly will be suitable for your family.
Sanaky SNK 64C Pressure Cooker
Sanaky is one of the manufacturers you trust most when shopping for household products. Take a Sanaky SNK 64C pressure cooker, you will enjoy it as soon as you see. The product has ostensibly as a premium rice cooker, fashion and modern design, light brown easily blend with any interior space.
The hearts of the pot has aluminum pot-stick glazed thermal storage, which secures the health of users. The cooking pot has automatic functions such as rice, soup, fish porridge, porridge, stewed ribs, stew ribs, the menu option that you select functions appropriate to cook food quickly, delicious, and most nutritious.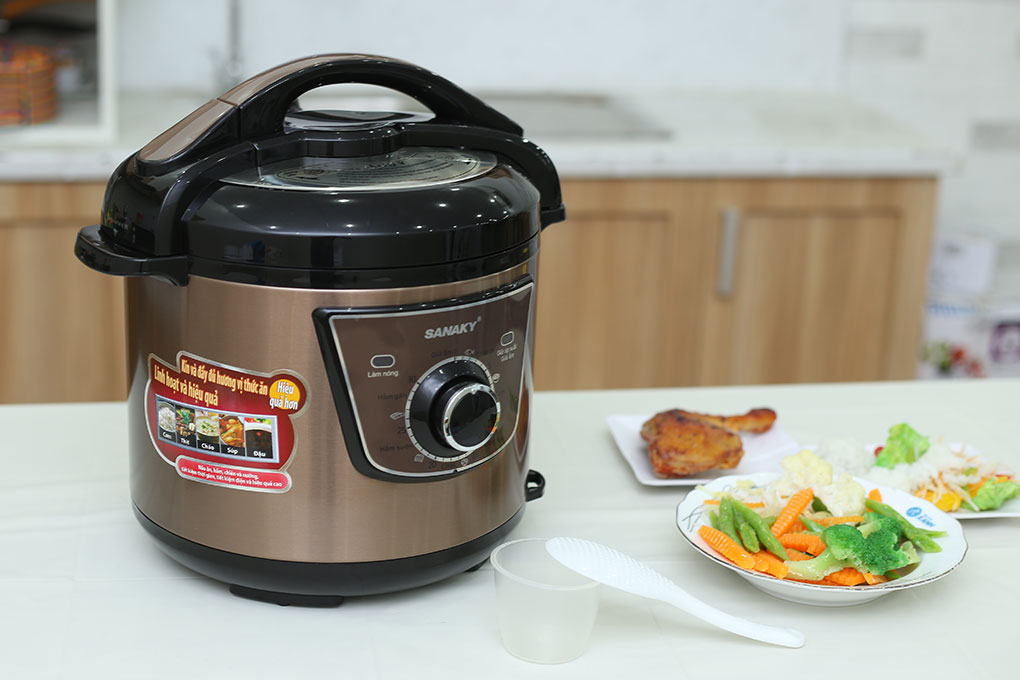 Sunhouse SHD 1767 Pressure Cooker
Finish the top 5 is a product of Sunhouse, Sunhouse SHD 1767 electric pressure cooker.  Product has highlights, attracting personalities red tones, contributes to embellish the modern, fashion for your kitchen space .
The Heart of the pot has the non-stick coating Whitford by US standards, including 6 high durability paints, which is safe and not harmful to the health of users. Besides the cooking functions include cooking rice, porridge / soup, cake, chicken / duck, meat / ribs, beans / bean. Also, the pot also has a timer function up to 24 hours to help you to choose the appropriate cooking time flexibility for each dish.
If you want to know more about the method of using the pressure cooker, Daniel Thorn is a chef in the famous restaurant. He will share some tips for you. For example, when choosing the product, always orient the prestigious brand to ensure the quality and longevity. Also, after using, you should take carefully the hygiene to make it look a new one.